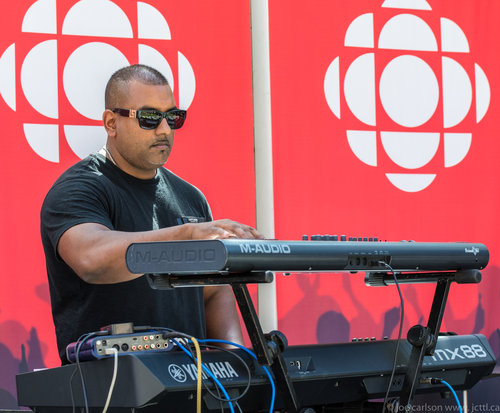 Anaamika is Vancouver, Canada's most professional, versatile, innovative Bollywood fusion live band.
When it comes to Anaamika, you've got two choices or a blend of both! They're the only live band to give the best of both worlds … a five piece acoustic band or a full on big band exprerience.
They provide a vast entertainment singing repertoire from Eastern Bollywood Golden Oldies to the most recent Western chart hits.
They're one the finest dance band, party band, cover band and offer the ultimate best in live music for cocktail receptions, weddings, special events, corporate functions and private parties. Anaamika is composed of a group of professional, seasoned talented singers and musicians at the top of their craft who have been performing individually for many years.
Because they carefully selected their artists, this creates a powerful musical synergy, making their creative art of musical composition, arrangement and performance the reason why you and your guests will either want to chill and mellow out to their harmonious, velvety ballads with their five piece acoustic setup or dance the night away to their grooving Bollywood tunes as they rip it up with the big band! Their band members have mastered many musical genre and can seamlessly incorporate many musical styles into show stopping performances satisfying everyone's preferences.
While they focus their style primarily on Bollywood music they also offer other genres of music. Whether you're looking for Golden Oldies classics of Kishore Kumar's Zindagi Ek Safar, Roop Tera Mastana or Mera Sapno Ki Rani or perhaps Mohammed Rafi's classics like Chaudvi Ka Chand or O Hassena Zulfur Valee .... perhaps more recent hits of Arijit Singh's Tum Hi Ho or Atif Aslam's Jeena Jeena or Rahat Fateh Ali Khan's Mast Mast ... or Sonu Nigam's latest hits well he's got it covered! If its Kumar Sanu, Mukesh, Jagjit Singh, Ustad Nusrat Fateh Ali Khan, he's got a great selection of songs to cater for everyone!
This rare combination of musical prowess and the ability to accurately read a crowd's mood leads to the most energetic, lively and powerful performance you can get on the Canadian Bollywood fusion music scene. As our list of extremely satisfied clients will tell you, Anaamika is no ordinary band; they are the gold standard of Vancouver's events and are one of Vancouver's most sought-after musical acts. More than just a cover band, they are artists whose specialty is creating unforgettable memories filled with great music and entertainment.
Anaamika are not your typical band but artistic entertainers that are extremely professional and passionate about what they collectively deliver and will provide a high caliber performance of wonderful entertainment for you and your guests. Their unique talent, years of experience, elegance, refined voices, versatility and professionalism make Anaamika well versed for providing the finest in musical entertainment for weddings, receptions, parties, mehfil nights, home parties, clubs, concerts, corporate events and festivals - whatever the event, he's got it all covered!
Looking for a live band for your next event? When you hire Anaamika, you aren't just getting an act, you're getting an experience of an innovative musical entertainment fused with vocal and musical compositions that echo the coming of the mystical eastern sounds blended with western music that you'll want to re-live again and again! If you're looking an acoustic live band experience for soft back ground music during champagne cocktail reception or your outdoor BBQ garden party or a full on big band experience with perhaps a lively dance party they've got you covered! Want your event to be talk of the town for years to come? Yep, they've got you covered! Book Anaamika for your next event and prepare to be blown away by one of the most dynamic band in the Bollywood music business!
If you want to make your event special, unique and stand out from the rest they've got what you're looking for! Anaamika lead vocalist Jazz has over 35 years of experience working in the South Asian music entertainment industry and as a singing entertainer recognizes and understands his client's needs by working closely with them to make their event a more memorable one!
Their personal mission? It's simple, to provide a high caliber of live, professional, most versatile singing entertainment to your event that always guaranteed to leave your audiences in sheer excitement! Anaamika perform as a small five-piece acoustic band or with a full on live musical big band. "It's all about delivering what the audience wants" says Jazz lead vocalist of Anaamika. Jazz is a professional artist of the highest standard and he therefore pride himself in providing the highest quality of musical singing in the local entertainment industry! They have an entertainment package to suit all your needs. Get in touch with them and they will take the worry out of your hands and make your event one to remember! World class entertainment services on your doorstep! Anaamika - Bollywood No. 1 in Music Entertainment.
You're that much closer to being the best party planner ever!
Karan Mattu aka Kma2
Karan is a drum instructor, performer, studio musician, music producer and sound engineer. With music running through his entire family, and over ten plus years of live playing and teaching, his passion thrives through many different styles. He studied at Nimbus School of Recording Arts for Audio Engineering. In addition to this, he studied jazz drumming throughout his high school years. He has won several awards such as Top Junior Drummer in 2010 and Top Senior Drummer for the Envision Jazz Festival. Karan is fluent in a vast range of genres including Rock, Jazz, Funk, Latin, Pop, Bhangra, Hindi, Bollywood, Fusion, Reggae, Country and many more.
He has toured across Canada and the United States, completing his first United States tour during his high school years. Karan is a well renowned musician in the Greater Vancouver area and has played many festivals such as VIBC, Surrey Fusion Festival, DESIfest, Jamin Jubilee, CBC Nooner Festival and many more. He has performed at various venues around the Greater Vancouver Area including The Vogue Theatre, The Bell Performing Arts Center, Surrey Arts Center, Queen Elizabeth Theatre, Studio Records, Media Club, The Hindenburg, The Red Room and the list goes on.
Besides just playing on stage, Karan enjoys teaching musicians young and old how to learn all aspects of the drums. From the age 12, he has been a completely self-taught musician, even picking up the guitar and piano. He teaches from his own studio and is available for mobile lessons.
Karan comes from a legacy of music in his family. He's the eldest son of the band leader Jazz. Check out more info www.karanmattu.com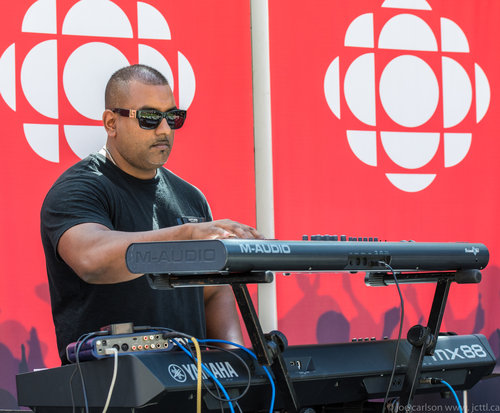 Kal Mattu aka Kal-M
Kal Mattu is a keyboardist, studio musician and music producer. At a very early age Kal was immersed into a world of playing live music with his talented family stretching from the UK to Canada. Kal started his live performance in Edmonton Alberta with local band Gaunda Punjab, his influences have been derived from Hip Hop to RnB to Reggae which gave him the ability to add different flavors to his live performance. Over his tenure he went from second keyboardist to lead keyboardist and has performed with the likes of Balwinder Safri, Malkit Singh, Jazzy B, Sherry Mann, Saieen Zahoor, Aman Hyar, Jay status to Jessie Sidhu. With years of live performance experience Kal transitioned into producing music.
Kal has been producing music since the age of 17, and was signed to Presidential Campaign ( producers of "I'll make you sick" from international artist PINK) under LeFace Records (Baby Face record label). Using the production name "Courtside Entertainment" Kal was featured in Chris Rock's "Pootie-Tang" movie and Paramount Pictures "Save the Last Dance" movie. Kal also took a stab at producing Bhangra music with his experience from Courtside Entertainment, he was able to infuse his urban influence with traditional bhangra melodies which led to his partnership with DJ Sanj. Kal has been producing with DJ Sanj for over 18 years with numerous hits and albums over the course of his music career.
Michael
Michael Fabro is a Canadian acoustic pop-rock performance artist. With a focus on crowd-pleasing hits and infectious vocal hooks the young artist has fused multiple styles into dynamic live act.
A native to Vancouver, BC, Michael began performing locally as a rock and blues musician. Looking for a greater musical challenge he moved to the East Coast. In Halifax, alongside studying a degree in music Michael worked as a session musician and musical theatre actor.
Taking things one step further Michael moved to Barcelona, Spain, to attend the Escola Superior de Musica de Catalunya. Surrounded by the Spanish lifestyle Michael soaked in the sounds of the Mediterranean and found new technical challenges amongst completing a masters in guitar performance. With a new bohemian look on life, and an undeniably rich understanding of his instrument, the singer-songwriter shaped the sound that we can hear from him today.
Now that he has returned to Vancouver, Michael is focusing his time on creating the perfect pop hook, and cultivating his experience by channelling the frustrations of millennial life into relatable lyrics. Michael is currently in the midst of recording his latest project, and is excited to introduce his music to the pop world. Catch Michael around the city as he takes the stage at local venues.
Colin
Colin Sankey is a prolific bassist, composer, arranger, and music instructor from Vancouver, B.C. In 2016, he earned his Bachelor's Degree in Music from the prestigious Jazz and Contemporary Music Program at Vancouver Community College.
During his tenure at VCC, Colin earned several Jury Awards, the Fred Bass Scholarship, and the Shannon Vincent Memorial Scholarship. He played in the Classic Jazz Ensemble, the Latin Jazz Ensemble, and the New Westminster District Jazz Band.
As a bassist, he has backed some of the most prolific classical, jazz, and rock musicians in Vancouver, including three-time JUNO Nominee Francois Houle, Jason Nett, Steve Danielsen, John Korsrud, Bryan Deans and the Plastic Acid Orchestra, and Hugh Fraser. He recently appeared as a sideman on DJ Sanj's "I Will Make You Famous" TV show.
Colin leads a band called Air Stranger, with whom he has composed and arranged dozens of songs, including original compositions and reworks of classic funk and rock hits. His compositional style is characterized by lush harmonies, infectious grooves, and catchy horn lines.
He also performs as bassist for classic rock/blues/funk cover band Eleven09, with whom he has also recorded bass for an upcoming release. But his versatility extends into the realm of jazz as he plays the upright and electric basses for the Noriko Jazz Trio, with whom he recorded the bass parts for an EP consisting of reworks of jazz standards.